Rcom 20 egg incubator (MX or Standard). This egg Incubator has automatic temperature and humidity setting and control, if you wish to vary the setting. Automatic hourly, two hourly or 3 hourly egg turning. Comes with universal dividers. Suits up to 20 chicken eggs, depending on the egg size, comes with a universal egg tray allowing different sized eggs to be incubated. Large double-glazed birds eye view observation window. Easily dismantled for cleaning. Used in Zoos and sanctuaries, and with 20 eggs capacity, this machine should help your production.
Calibration thermometer included.

Automatic fan cut out when incubator is disassembled
'Low Water' alarm
Optional egg trays available separately. The Rcom 20 Pro egg trays below fit the Rcom 20 standard.
10 Duck Goose, 20 Chicken or 50 Quail eggs.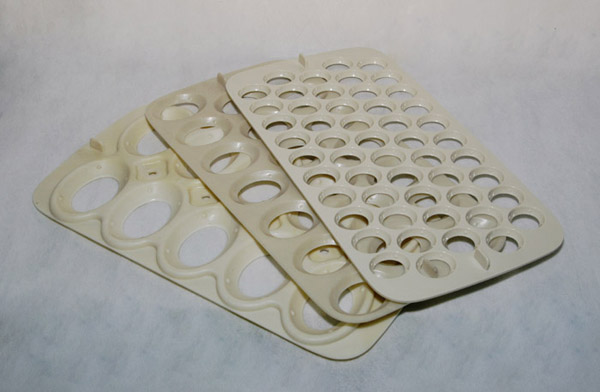 Optional rollers available separately to fit in the universal tray.
Plug your incubator into a surge protection power plug/ UPS (uninterrupted power supply) to protect the internal digital parts against power spikes and brown outs.
When incubating, setting and hatching always ensure the incubation room (ambient for the machine) is at a reasonable temperature and humidity, all machines operate within a range and outside of that range results will vary.