** Order and pay now, freight will be invoiced separately when the unit is ready for shipping to you (about 6 weeks) **
We have new stock arriving every 6-8 weeks - once you have paid for your unit this will be placed in our next scheduled order with the manufacturer.
You will be notified and emailed your freight/shipping invoice when the Incubator is ready for shipping to you.
The all new Rcom 20 Pro (PX) DO Incubator has digital temperature, humidity setting and auto turning. This version of Rcom egg incubator comes with 3 moulded egg trays: 20 chicken egg capacity, 48 quail egg capacity and 10 duck egg capacity. Used extensively in Zoos and Wildlife sanctuaries.
New, improved model has a Jog Dial for optimized user interface

Automatic Temperature and Humidity setting and control

Automatic egg turning and stop function

Manual setting model for incubating special breeds

LCD display with incubation information

Integrated Candling facility

Main body drying function

Anti-bacterial humidification unit

LED ambient light changing it's colour by the device status (see image above)

Cooling control cycle

Alarm function warning when water needs replenishing - Do not automatically add water, wait until the unit tells you to. Use distilled or demineralised water only.

Alarm function to advise when abnormal incubator temperature caused by sudden fluctuation of ambient temperature

Low noise, stepping egg turning motor

Body locking device

Slide plate in base of unit has embossed feature for preventing skid

Newly designed, double glazed viewing window/lid with handle helps minimize the influence of outside temperature

This unit is very easy to take apart for thorough cleaning between hatches
Quick start menu allows you choose species off the menu or choose 'other' to program your own settings.
Remember to plug your incubator into an indepentent Surge Protection power plug or UPS (uninterrupted power supply) to protect the internal digital parts against power spikes and brown outs.
When incubating, setting and hatching always ensure the incubation room (ambient for the machine) is at a reasonable temperature and humidity (ideally between 20-26 degrees Celsius). If your machine is operating outside of that range results will vary. Commercial style unit.
Three moulded trays included with the unit for Chicken (standard), Quail (small) and Turkey/Duck eggs (large).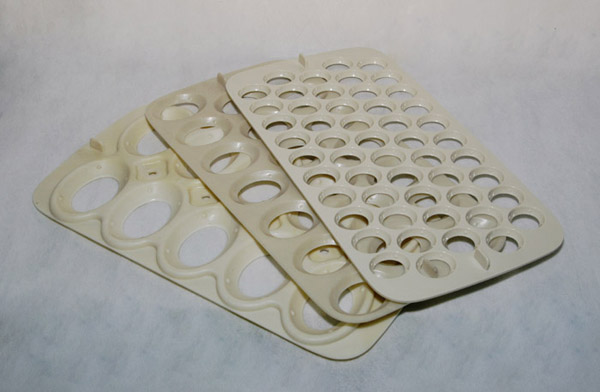 Optional roller tray available separately for incubating parrot or other small eggs.