Brooder or Intensive Care Unit (ICU) for young or recovering birds (BL500). This same Brooder is used for Wildlife rescue such as flying foxes and Koalas. It is used as a Dog ICU as well and also for young pups, whelping pups.So it can be called a Wildlife Rescue ICU, or Dog brooder, or Pup ICU or even a Koala Brooder!!!
Automatic temperature and humidity

Recessed brooding tray for easy cleaning

Dimmer for illumination control

Convenient rotary slide up door

Low fan noise (69db).
Dimensions inside: 62cm w x 39cm deep x 39cm h. Dimensions outside: 45cm h x 82cm w.
Plug your ICU into a surge protection power plug/ UPS (uninterrupted power supply) to protect the internal digital parts against power spikes and brown outs.
Always ensure the incubation/ICU room (ambient air for the machine) is at a reasonable temperature and humidity, all machines operate within a range and outside of that range results will vary.
As with all computer based equipment use a power point with surge protection to protect your asset.
Main Functions
Centralised heating

Built in filter

Built in anion activation

Automatic water pump to maintain humidity

Efficient power usage.
​NOTE: Some people believe raising parrots in an ICU should mean high temperature (37 degrees) and high humidity(60%), not only will this push most ICUs to the limit , it is likely to cause problems with the bird (must be comfortable but not over hot--which 37 is in a fan based machine). Temperature should be between 30 and 35 degrees and only at the high level for a day. Common humidity levels for sick or very young birds can be between 50 and 55 % RH, preferably not below. If you dissagree with us then thats fine, just don't expect the Rcom ICU to run happily at what we consider innapropriate levels of temperature and humidity. Also note the ambient Temp' and Humidity in the room makes a real difference to what the ICU can do for you. If your ambient humidity is low don't expect the ICU to be able to ramp it up to 60% at 37 degrees C. A high Temperature makes getting the humIdity high all the more difficiult. We are happy with the ICU but it will not do everything the way everyone wants it to. Don't assume please, ask us. Ask us to explain before assuming your settings are fine, tell us what you expect before applying those expectations on machines.
Also distilled water is not boiled water( many people seem to think it is---it is not), we say use distilled water for a reason , if this is not possible, and there is no reason why it isn't, then you have been told, distilled water is expected and makes sense anyway. Don't put unknown additives in your water, this unit boils the water immediately and quickly if your additives cause the machine to boil over then that is not a warranty issue- use distilled water and clean your machine.
Also it has come to our attention that people use 'kitty litter' in these machines, not only will this absorb moisture from the air ( making humidification more difficult) but when the litter granules break down they create a lot of dust, bad for the animals respiratory system and bad for the water tank and fans. Use blankets ( best)on the floor of the ICU and wood shavings or shedded paper for litter, this allows the machine to run more efficiently
Also, protect your incubators and ICU and equipment with surge protectors, as Electricity provision becomes more privatised and the dollars are not spent on the quality of power the risks of dirty or spiky power incrase, so get a surge protector or UPs (uninteruptable power supply) and use it please.
Also watch the height of your water level, there is a line on the side of the machine outlining the maximum water height, please use the machine as the instructions and this guide tell you to.
Much of what is said above may be termed ' common sense' but it is neccessary to tell people these things as we have found some different uses and materials being used with these units.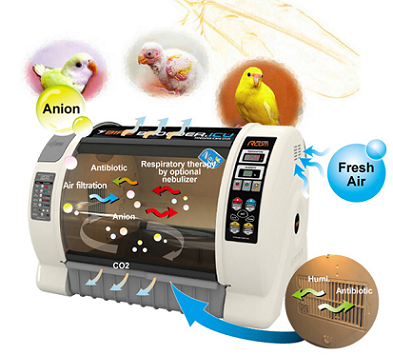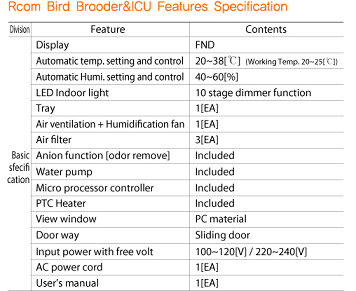 Use distilled water to avoid scale build up and to maintain efficient humidity settings.