Rcom 50 Pro egg incubator has additional features to the standard Rcom 50 MX. The Pro version finds uses in specialist incubation in Zoos, Sanctuaries and with breeders who are producing larger numbers of birds. With 50 eggs being incubated, your production can increase.
Front digital display differs: Rcom 50 has a static temperature and humidity display whereas the Rcom 50 Pro has an interactive (not touch) menu with icons and the like, which saves your settings. 50 Pro lets you select which bird 'type' you are wanting to incubate along with having an 'other' bird option for specialty breeds.

Rcom 50 Pro comes with three moulded egg trays (Chicken, Duck/Turkey and Quail) rather than universal tray dividers

Rcom 50 Pro has programmable turning control which allows you to program when auto turning ceases automatically three days before hatch.

Rcom 50 Pro counts down the days to hatch time and will turn off egg turning at the appropriate time.

Rcom 50 Pro allows the user to adjust egg turning angle.
Plug your incubator into a surge protection power plug/ UPS (uninterrupted power supply) to protect the internal digital parts against power spikes and brown outs.
When incubating, setting and hatching always ensure the incubation room (ambient for the machine) is at a constant temperature and humidity between 20-25 degrees Celsius, with low variance in temperature. Operating the machine outside of the recommended temperature range may effect the machines operating capabilities.
Main functions
Automatic temperature setting

Automatic humidity setting

Automatic hourly egg turning

Quick start menu system, select species and start/save

Automatic turning switch off plus timing and turning degree adjustment.
Features
Large double-glazed observation window
Easy dismantling for cleaning
Selection of °C or° F for temperature display
Spirit calibration thermometer.

Safety function
Alarm to warn if the observation window is not secured
Automatic fan cutout when incubator is disassembled
'Low Water' alarm
Incubation settings are automatically saved in the event of power failure
3 moulded egg trays: 24 Duck Goose, 48 Chicken or 116 Quail eggs.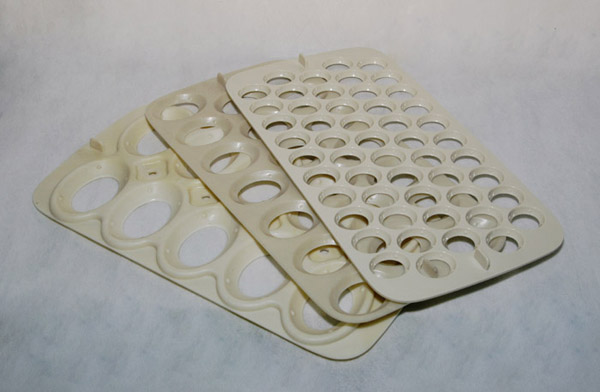 Universal Adjustable Egg Tray (Optional)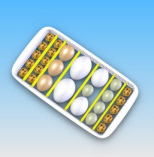 Purchase tray separately here
Commercial style.